One of the last things we did at the seminar with Bernard McGinn this past weekend was read through and discuss Saint Francis of Assisi's poem and religious song Canticle of the Sun. McGinn considers this to be a very mystical text from Francis, as Francis seems to see God powerfully in and throughout the whole of creation, including in the sun, moon, stars, Earth, etc. McGinn noted that it is a kind of nature mysticism. Francis wrote most of it in the year 1224, and the last few lines in 1226 just before his death.
Father Eric Doyle said this about Saint Francis:
Though physically blind, he was able to see more clearly than ever with the inner eye of his mind. With unparalleled clarity he perceived the basic unity of all creation and his own place as a friar in the midst of God's creatures. His unqualified love of all creatures, great and small, had grown into unity in his own heart. He was so open to reality that it found a place to be at home in his heart and he was at home everywhere and anywhere. He was a centre of communion with all creatures.
Here is the English text of the song, as noted on the handout that McGinn gave us:
---
Most High, all-powerful, good Lord, 
Yours are the praises, the glory, the honor, 
and all blessing.
To You alone, Most High, do they belong, 
and no man is worthy to mention Your name.
Praised be You, my Lord, with all your creatures, 
especially Sir Brother Sun, 
who is the day and through whom You give us light. 
And he is beautiful and radiant with great splendor;
and bears a likeness of You, Most High One.
Praised be You, my Lord, through Sister Moon 
and the stars, in heaven You formed them 
clear and precious and beautiful.
Praised be You, my Lord, through Brother Wind, 
and through the air, cloudy and serene, 
and every kind of weather through which 
You give sustenance to Your creatures.
Praised be You, my Lord, through Sister Water,
which is very useful and humble and precious and chaste.
Praised be You, my Lord, through Brother Fire, 
through whom You light the night and he is beautiful 
and playful and robust and strong.
Praised be You, my Lord, through Sister Mother Earth, 
who sustains us and governs us, and who produces 
varied fruits with colored flowers and herbs.
Praised be You, my Lord, 
through those who give pardon for Your love, 
and bear infirmity and tribulation.
Blessed are those who endure in peace 
for by You, Most High, they shall be crowned.
Praised be You, my Lord, 
through our Sister Bodily Death, 
from whom no living man can escape.
Woe to those who die in mortal sin. 
Blessed are those whom death will 
find in Your most holy will, 
for the second death shall do them no harm.
Praise and bless my Lord, 
and give Him thanks 
and serve Him with great humility.
---
The well-known hymn "All Creatures of our God and King," with text by William H. Draper, is a paraphrase of this poem by Saint Francis.
Joseph Smith Jr.
Another mystic emerged in the United States some 600 years after Saint Francis, who shared very similar sentiments about how God could be known in and throughout the whole of creation. This was the founder of Mormonism, Joseph Smith, Jr. In 1832, Joseph wrote a "revelation" which he called the "olive leaf," being "plucked from the Tree of Paradise, the Lord's message of peace to us." This is known today as Doctrine & Covenants section 88. This is considered by scholars to be one of the most mystical texts from Joseph Smith. In speaking of "Jesus Christ," it reads as follows. Compare with St. Francis's words above:
---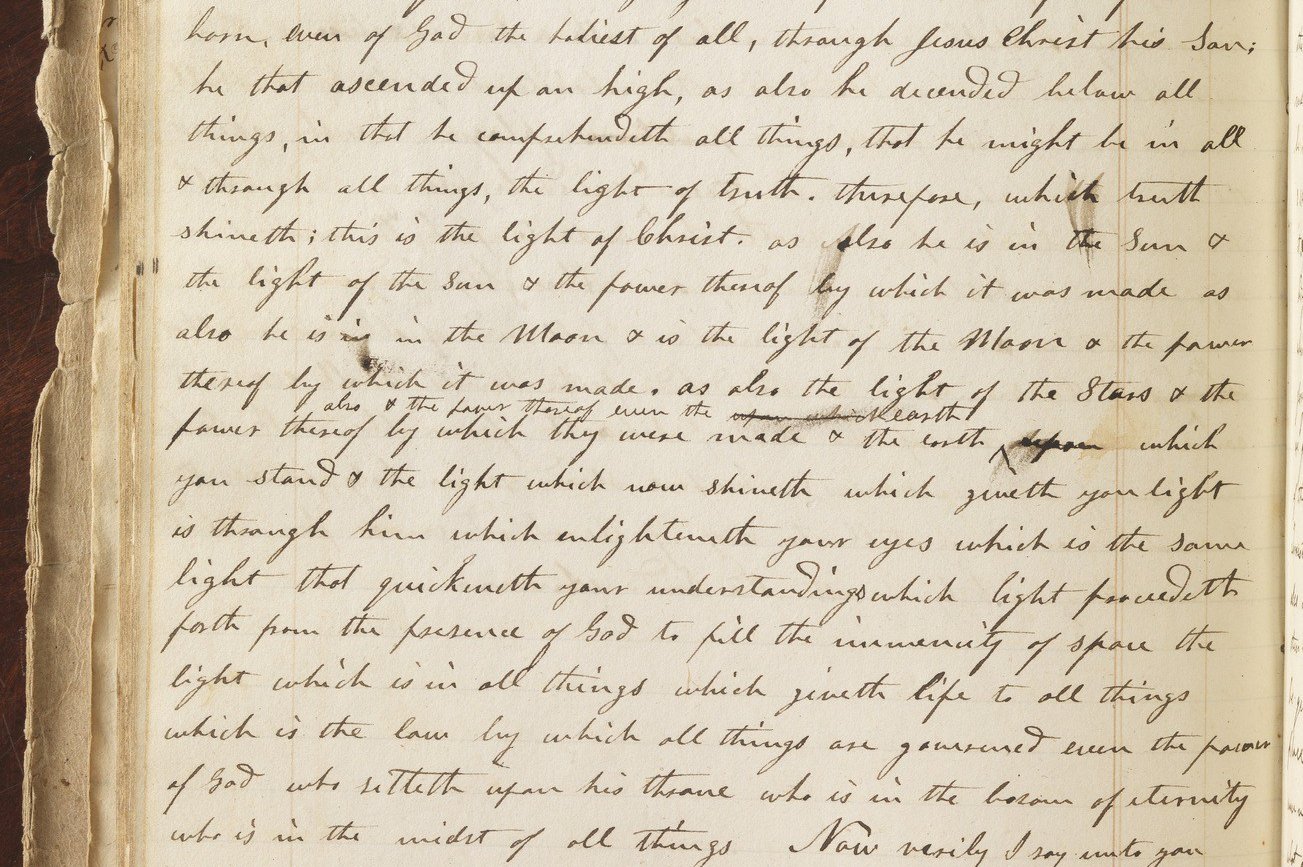 He that ascended up on high, as also he descended below all things, in that he comprehended all things, that he might be in all and through all things, the light of truth;
Which truth shineth. This is the light of Christ. As also he is in the sun, and the light of the sun, and the power thereof by which it was made.
As also he is in the moon, and is the light of the moon, and the power thereof by which it was made;
As also the light of the stars, and the power thereof by which they were made;
And the earth also, and the power thereof, even the earth upon which you stand.
And the light which shineth, which giveth you light, is through him who enlighteneth your eyes, which is the same light that quickeneth your understandings;
Which light proceedeth forth from the presence of God to fill the immensity of space—
The light which is in all things, which giveth life to all things, which is the law by which all things are governed, even the power of God who sitteth upon his throne, who is in the bosom of eternity, who is in the midst of all things.
---
In other words, the Christ is in the sun, the moon, the stars, the Earth, and in you and me. Christ fills all space, and gives life to all things, and is in all things.
A decade later in 1842, Joseph wrote a letter to the church, in which he seemed to anthropomorphize these creations of God, perhaps noting the life and light and consciousness even in all of creation:
Let the mountains shout for joy, and all ye valleys cry aloud;
and all ye seas and dry lands tell the wonders of your Eternal King!
And ye rivers, and brooks, and rills, flow down with gladness.
Let the woods and all the trees of the field praise the Lord;
and ye solid rocks weep for joy!
And let the sun, moon, and the morning stars sing together,
and let all the sons of God shout for joy!
And let the eternal creations declare his name forever and ever!
And again I say, how glorious is the voice we hear from heaven,
proclaiming in our ears, glory, and salvation, and honor, and immortality, and eternal life;
kingdoms, principalities, and powers! (D&C 128:23)
All of creation is a witness of God, of Reality, of Truth, of Christ, of Buddha-nature, of the Absolute. All of it praises the Highest. It all shouts for joy, cries aloud, tells of the wonders, is glad, praises God, weeps for joy, sings together, shouts, declares, proclaims!
What does it mean to praise God as manifested throughout the whole of creation? What does it mean for creation itself to sing praises? I think it means just that, that we love and appreciate and show deep gratitude for the totality of all things, all creatures, all that we have, all of nature, all that beautifies the world and universe. For it is all a manifestation of God. It is all One in God. And when we can see it as this unity, this manifestation of God, then we have entered into the Kingdom of God. We have had this shift of perception and of consciousness, and we see the goodness, the love, the beauty, the truth that is present in all things. We see God in it all, even in ourselves and all others.