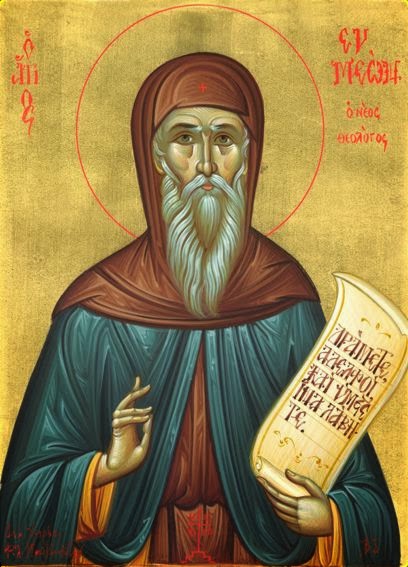 St. Symeon the New Theologian (949-1022 AD) was a Byzantine Christian monk and poet, and was canonized as a saint by the Eastern Orthodox church. He wrote much about Christian mysticism, including his own experiences.
I've written twice before about St. Symeon's "First Vision" accounts. He seems to have recorded many of them. He was prolific in sharing his experiences of theosis, or deification, and is called by Father George A. Maloney the "mystic of fire and light."
The previous experience I wrote about, perhaps Symeon's very first, happened when he was a layman at age 20. The following experience happened some eight years later, when he was in the Monastery of Studios in Constantinople, age 28, approximately in the year 977. Again Symeon recounts the experience in the third person, saying he was told it by a "young man." It is found in his Discourse 16 (as translated by de Catanzaro).
So great… was my desire and longing for such a [revelatory] blessing that as I thought thereof I forgot all things earthly and heavenly, to the extent even of eating and drinking and bodily relief…

I poured out tears like rivers…
He says that his spiritual father, Symeon the Pious, said to him:
"Know this, my boy, that it is neither fasting, nor vigil, nor bodily effort, nor any other laudable action that pleases God so that He appears to us, but only a soul and heart that is humble, simple, and good."
The "young man" then says:
More than ever I was burning with ardor.
He recalled a couple scriptures, 2 Kings 2:9-10, and Ps. 145:19, noting:
I believed that however unworthy I was, yet God is gracious to men, and quick to fulfill the desire of those who fear Him…
He then recounts in detail:
So I entered the place where I usually prayed and, mindful of the words of the holy man I began to say, 'Holy God.' At once I was so greatly moved to tears and loving desire for God that I would be unable to describe in words the joy and delight I then felt. I fell prostrate on the ground, and at once I saw, and behold, a great light was immaterially shining on me and seized hold of my whole mind and soul, so that I was struck with amazement at the unexpected marvel and I was, as it were, in ecstasy. Moreover I forgot the place where I stood, who I was, and where, and could only cry out, 'Lord, have mercy,' so that when I came to myself I discovered that I was reciting this.

…who it was that was speaking, and who moved my tongue, I do not know—only God knows. 'Whether I was in the body, or outside the body' (2 Cor. 12:2, 3), I conversed with this Light. The Light itself knows it; it scattered whatever mist there was in my soul and cast out every earthly care. It expelled from me all material denseness and bodily heaviness that made my members to be sluggish and numb. What an awesome marvel! It so invigorated and strengthened my limbs and muscles, which had been faint through great weariness, that it seemed to me as though I was stripping myself of the garment of corruption. Besides, there was poured into my soul in unutterable fashion a great spiritual joy and perception and a sweetness surpassing every taste of visible objects, together with a freedom and forgetfulness of all thoughts pertaining to this life. In a marvelous way there was granted to me and revealed to me the manner of the departure from this present life. Thus all the perceptions of my mind and my soul were wholly concentrated on the ineffable joy of that Light.

But when that infinite Light which had appeared to me—for I can call it by no other fitting or appropriate name… in some way had gently and gradually faded and, as it were, had withdrawn itself, I regained possession of myself and realized what its power had suddenly done to me. I reflected on its departure and considered how it had left me again to be alone in this life. So severe was the grief and pain that overcame me that I am at a loss properly to describe how great it was: A varied and most vehement pain was kindled like a fire in my heart. Imagine, father, if you can… the pain of being separated from it, the infinity of love, the greatness of my passion, the sublimity of this greatest of blessings! I on my part cannot express in words or comprehend with my mind the infinity of this vision…

…when it appears it fills one with joy, when it vanishes it wounds. It happens close to me and carries me up to heaven. It is a pearl [of great price] (Mt. 13:46). The light envelops me and appears to me like a star, and is incomprehensible to all. It is radiant like the sun, and I perceive all creation encompassed by it. It shows me all that it contains, and enjoins me to respect my own limits. I am hemmed in by roof and walls, yet it opens the heavens to me. I lift up my eyes sensibly to contemplate the things that are on high, and I see all things as they were before. I marvel at what has happened, and I hear a voice speaking to me secretly from on high, "These things are but symbols and preliminaries, for you will not see that which is perfect as long as you are clothed in flesh. But return to yourself and see that you do nothing that deprives you of the things that are above. Should you fall, however, it is to recall you to humility! Do not cease to cultivate penitence, for when it is united to My love for mankind it blots out past and present failures."
St. Symeon then says about the "young man":
When I had heard these things from him, fathers and brethren, I was almost ecstatic and trembled all over. I noted at one the great height of contemplation and knowledge to which he had readily ascended, solely because he loved and trusted his spiritual father. From mere beginnings he had been granted to see and enjoy such great blessings, as if he had already cast human weakness aside and become an angel instead of a man.

I therefore entreat you, brethren in Christ, let us cast far from us every attachment and every care of this present life. Let us hate the pleasures of the flesh, bodily comfort, slackness, and idleness, by which that which is worse prevails over that which is better. Come, let us arm ourselves with genuine faith (cf. Eph. 6:16) toward God and toward our fathers and teachers who live according to God. Let us acquire a contrite heart, a soul humbled in mind, and a heart that by means of tears and repentance is pure from every stain and defilement of sin. So shall we too be found worthy in due time quickly to rise to such heights that even here and now we may see and enjoy the ineffable blessings of the divine light, if not perfectly, at least in part, and to the extent to which we are able. So shall we both unite ourselves to God and God will be united to us. To those who come near us we shall become 'light' and 'salt' (cf. Mt. 5:13-14) to their great benefit in Christ Jesus our Lord, to whom be glory forever. Amen.
Symeon's experience seems to bear resemblance to Joseph Smith's First Vision, and mystical experiences more generally, in at least these ways:
He had a deep desire to know the will of God.
He was humble, and concerned for the welfare of his soul.
A few scriptures in the Bible had a deep impact on him, and he knew that God would fulfill his desire.
He was praying.
A great light suddenly appeared, shining on him.
The light enveloped him.
The light is as bright as the sun.
It did not seem like a typical light, something was different about it.
His whole mind was caught away in the light.
He was filled with indescribable or ineffable joy.
He seemed to be taken away from his natural surroundings, to a heavenly space.
He felt a strangeness in his tongue.
He spoke to the "Lord" in the Light.
A voice in the Light speaks back to him.
He feels certain he conversed with the Light, God knowing it.
He was delivered or redeemed from every earthly care and burden, all corruption (sins?).
He was filled with joy, love, and sweetness.
The vision was indescribable or ineffable, defying description.
He feels he was given infinite treasures, pearls, knowledge about creation.
When the vision ended, he came back to himself.
If you would like to submit a "First Vision" account, either personal or found, for inclusion on this website, please click here.